Show me Latest Draw for
Watch Daily Draws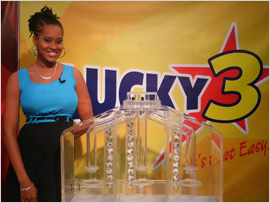 Draws are held from Monday to Saturday at 1:30pm and from 9:00pm on evenings. If you've missed any of our Daily Draws just clik here for access. We understand that you may not always be available during draw times, hence the effort to bring convenience to you.
You also have an opportunity to watch our promotional events and marketing activities. It is important to us that our players and viewers alike recognizes and understands what we do to make our games exciting and attractive. We design promotional and marketing activities to encourage persons to play and at the same time reward them for their participation.
Watch Daily Draws and other Media Productions on our social channels.
Go L'argent
Play big and win even BIGGERRRR with 'Go L'argent', the new $10 scratch game from the St. Lucia National Lottery. Read More

Welcome to the Saint Lucia National Lottery
1-Off
Now you can win even if you're 1- OFF. That's right! 1- OFF is the all new and exciting game from the St.Lucia National Lottery. As we continue to reflect our dedication to our players by creating games which provide opportunities to change lives, we're giving you exactly what you've been asking for....
Read More
Jackpot Fridays
Win up to $32,000. CASH in SNL's 'Jackpot Fridays' Promotion which launches on May 15th and ends June 23rd 2017.
To qualify for this exciting promotion ALL you have to do Players is spend $10.00 on Big 4 game to receive an entry form. Read More
Connect with Us

Be the first to get Special Events News and Daily Winners Numbers delivered into your email address.