Show me Latest Draw for
Watch Daily Draws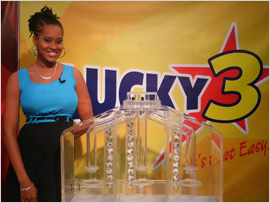 Draws are held from Monday to Saturday at 1:30pm and from 9:00pm on evenings. If you've missed any of our Daily Draws just clik here for access. We understand that you may not always be available during draw times, hence the effort to bring convenience to you.
You also have an opportunity to watch our promotional events and marketing activities. It is important to us that our players and viewers alike recognizes and understands what we do to make our games exciting and attractive. We design promotional and marketing activities to encourage persons to play and at the same time reward them for their participation.
One of our latest promotion was attached to Double Daily Grand where players got chances to win hams, rum, turkeys and cash for the festive season.
Watch Daily Draws and other Media Productions on our social channels.

Welcome to the Saint Lucia National Lottery
Have you played?

We are so excited about our newest game Big 4....Why are we so excited you may ask, well it's because we know we have provided a game which when played at it's lowest bet of $1 can reward our players with $5000.
Not only are the rewards great there are many ways to play which provides even more chances to win. We want our players to be happy, hence the effort and attention to provide games which continues to meet and exceed our players expectations.

Be a winner, scratch for $50, 000 or why not Power Play for $19,500. With $235, 000 you can do so much more, Super 6 gives you the chance to win, and, coupled with Power Play, that's over $200, 000 in prize money.

Did you know that at lunchtime you could win $2000 with Double Daily Grand EVERYDAY? Talk about Lucky, spend as little as $1 with Lucky 3 and win as much as $550.

Every day, St. Lucia National Lottery pays its lucky customers over $20,000 in cash prizes. That's over 1/2 a million dollars for the month! Just imagine yourself in the VIP circle just by playing your favourite numbers. Register as a VIP and receive up to the minute updates and draws, latest news, upcoming promotions and any development we think you our valued customer should be aware of.

So! have you played???

St. Lucia National Lottery...... We're changing lives!
Connect with Us

Be the first to get Special Events News and Daily Winners Numbers delivered into your email address.