No Special Number?
All draw games carry a QUICK PICK option which is a random selection of numbers by the terminal.
The SNL Random Number Generator creates also a completely random set of numbers and/or letters for each game.
Where to Buy Island Wide
With the Agent Locator tool find around the Island, places where you can play our games.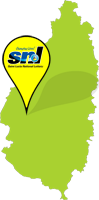 JOB OPPORTUNITIES
Canadian Bank Note Company, Limited produces bank notes and payment systems, passports and passport issuing systems, lottery tickets and electronic lottery games, postage stamps, securities certificates, shareholder communications, and other high security documents and related issuing systems. The Company markets its products to government agencies and authorities, as well as to institutional and other customers in more than 40 countries. The company manages the St. Lucia National Lottery in the island of St. Lucia, through its wholly owned subsidiary CBN St. Lucia Inc.
---
Human Resources Manager
Primary Function
Reporting to the Vice President the Human Resources Manager acts as a consultant and strategic business partner. The position involves the support and implementation of the Corporate HR strategy throughout CBN by supporting and rolling out HR policies, programs and processes and consulting to executives, line managers and employees. This includes, but is not limited to: leading and championing change initiatives; facilitating training and information sessions; assisting with and overseeing talent acquisition and onboarding activities; advising and coaching managers on employee relations, occupational health and safety, performance management and attendance management matters; facilitating effective talent management; managing compensation year-end programs, advising managers and employees on matters pertaining to compensation and benefits; and assisting with HR planning, succession management and the termination of employees as well as being responsible for developing collaborative strategic relationships with the unions and CBN St. Lucia management.
Qualifying Requirements
Bachelor's degree in human resources, Employee Relations or related field;
Three to five years of progressive experience in employee labour relations matters in a unionized environment;
Experience with interpretation of collective agreements, contract administration, and grievance/ arbitration preparation;
A history of successful, positive, union-management relationships, and demonstration of a cooperative and consultative approach to achieving goals and objectives and resolving issues;
A working knowledge of labour and employment law;
Ability to work both interdependently and independently; self-motivated;
Conflict management, negotiation, and mediation skills;
Understanding of project management as it pertains to HR projects and programs. Able to simultaneously manage multiple projects with tight deadlines;
Ability to effectively influence and persuade stakeholders and obtain buy-in where necessary.
An industry competitive compensation package is offered for the right candidate and based on proven track record, education and experience, including: Base salary, travel allowance and medical and health coverage.
---
To apply, please send a cover letter along with your curriculum vitae to:
Email: [email protected]
We thank all applicants for their interest; however, only those selected for an interview will be contacted.
Please also note that applications received after October 6th, 2023 will not be acknowledged.